Prof. Avi Weiss, Director of the Taub Institute, spoke at JPC about some major economic issues in Israel today. One of his main topics was the prices of food. Over the past decade, substantial and interesting changes have taken place in Israel's food market. Food prices increased rapidly between 2005 and 2014. This phenomenon is relatively unique to the Israeli economy (in contrast to the rise in housing prices, for example, which was shared by other developed countries). The rapid rise in food prices during this period was accompanied by an increase in profit margins in the food industry. In only four years, the food industry's return on capital, an indication of its profit margins, increased by 12 percentage points. This phenomenon was not witnessed in other manufacturing industries, as the graph shows below. The rise in food prices combined with the increase in profit margins indicates a change in the industry's competitive structure, and there is indeed evidence to this effect.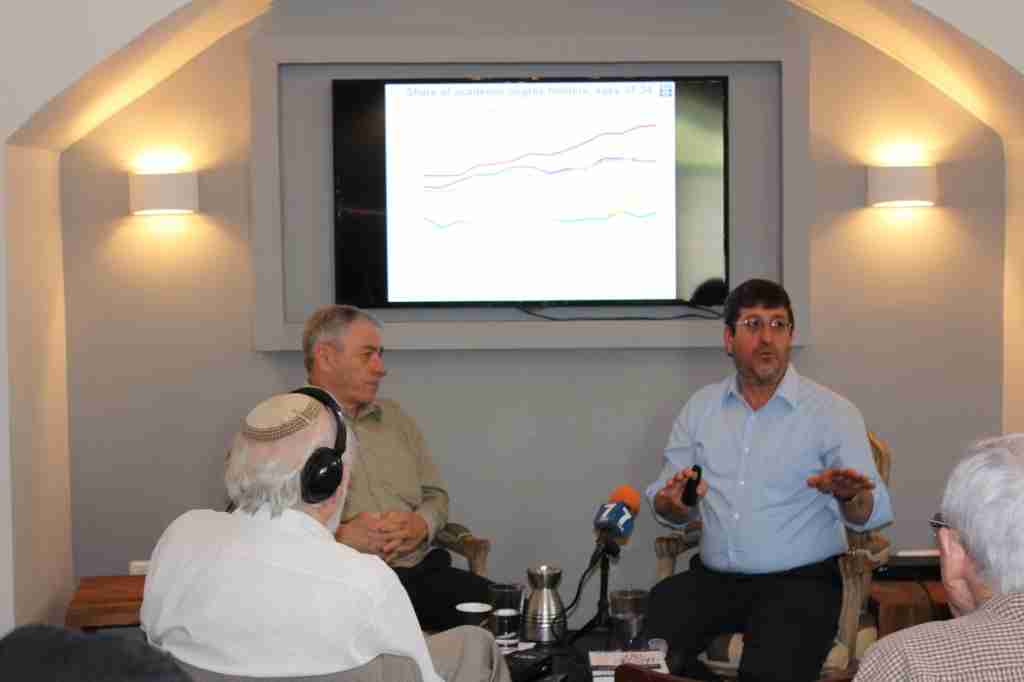 Another topic was the cost of living. Recently, there has been a lively public discussion surrounding the cost of living in Israel, and it is frequently claimed that the prices of consumer products are higher in Israel than abroad. Studies find partial evidence that compared to other developed countries, the price level of private consumption in Israel is relatively high considering that income per capita in Israel is relatively low. The findings in such international comparisons, however, are obfuscated by the influence of fluctuations in currency exchange rates, an issue not addressed properly in earlier studies. In this chapter, this issue is examined by conducting an international comparison of price rates over 25 years. This long-term comparison serves as a test to assess whether the high price level observed in recent years is temporary and can be explained by, for instance, the appreciation of the shekel in 2008, or whether it is a long-term process associated with structural facets of the economy. The study finds that fluctuations in the nominal exchange rate cannot account for the high price levels found in earlier studies and that high prices are a long-term phenomenon which are likely related to structural factors in the local market.
About the speaker:

Prof. Avi Weiss holds a doctoral degree from the University of Chicago. He has presided as a member of the senior faculty of Bar-Ilan University since 1988 and served as Chair of the Economics Department between 2005 and 2008. His area of expertise is Applied Economics and his research focuses on industrial organization, antitrust, labor economics, law and economics, and behavioral and experimental economics. Weiss is the editor of The Economic Quarterly – the journal of the Israel Economic Association – and is an associate editor of Economic Inquiry.
In the public domain, Prof. Weiss served as Chief Economist and Deputy Director of the Israel Antitrust Authority between 2003-2005; was a member of the Anti-Dumping Commission of the Ministry of Industry and Trade between 1999-2003; served as a member of the Subcommittee on the Cost of Living and Competition of the Trajtenberg Commission on Social and Economic Change; and acted as a consulting member of the Bachar Intra-Agency Committee for Reform of the Financial Sector. Today he is a member of the Competition Task Force of Israel's Grand Strategy Forum. Prof. Weiss has been a research fellow at IZA (a labor market research center) in Germany since 2000. Throughout his academic career, Weiss has published more than forty articles in refereed journals and professional books.
The Taub Center for Social Policy Studies in Israel is an independent, non-partisan, socioeconomic research institute based in Jerusalem. The Center conducts high-quality, impartial research on socioeconomic conditions in Israel, and develops innovative, equitable and practical options for macro public policies that advance the well-being of Israelis. The Center strives to influence public policy through direct communications with policy makers and by enriching the public debate that accompanies the decision making process.